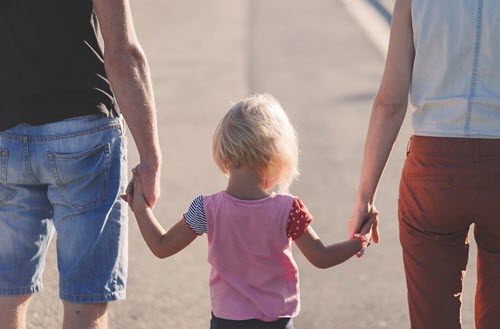 In many countries, corporal punishment of children is illegal even when carried out by the child´s parent or other legal guardians. Corporal punishment is an action inflicted specifically to punish the child, which makes it different from actions such as restraining a child to protect it from itself or restraining a child to protect someone else.
Yet, there are many countries where parents and other legal guardians are still legally permitted to apply corporal punishment to their children. According to Human Rights Watch, in 2014, approximately 90% of the world´s children lived in places where corporal punishment of children was legal.
One of the most recent countries to ban corporal punishment of children, even when administered by parents or other legal guardians, was Nepal, where the new law came into force in September 2018.
Hand spanking – one of the most common forms of corporal punishment in the home
Hand spanking is a common form of corporal punishment in many parts of the world, especially when the punishee is a child and the punisher is a parent or school staff.
Hand spanking does not involve any object, such as a whip, rod, belt, or paddle.
In most of the United States, it is legal for parents to hand spank their underage children. Two notable exceptions are the states Iowa and New Jersey, where the practise has been outlawed. In the United States, it is infants and toddlers that are most likely to be hand spanked.
Hand spanking of children typically involves the spanking of the buttocks.
The American Academy of Pediatrics (AAP) is against hand spanking, regardless of the child´s age.
Examples of organizations that have spoken out against corporal punishment of children, even when administered by a parent or other legal guardian
The American Academy of Pediatrics (AAP)
Source: https://doi.org/10.1542/peds.2018-3112
The United States National Association of Social WorkersSource: Social Work Speaks: NASW Policy Statements (Eighth ed.). Washington, D.C.: NASW Press. 2009. pp. 252–258. ISBN 978-0-87101-384-2.
The Royal College of Paediatrics and Child Health of the United Kingdom
Source: http://www.rcpch.ac.uk/sites/default/files/asset_library/Policy%20and%20Standards/Policy%20Documents/Corporal%20Punishment%20Policy%20Nov09.pdf
The United Nations
Article 19 of The United Nations Convention on the Rights of the Child:
1. States Parties shall take all appropriate legislative, administrative, social and educational measures to protect the child from all forms of physical or mental violence, injury or abuse, neglect or negligent treatment, maltreatment or exploitation, including sexual abuse, while in the care of parent(s), legal guardian(s) or any other person who has the care of the child.
2. Such protective measures should, as appropriate, include effective procedures for the establishment of social programmes to provide necessary support for the child and for those who have the care of the child, as well as for other forms of prevention and for identification, reporting, referral, investigation, treatment and follow-up of instances of child maltreatment described heretofore, and, as appropriate, for judicial involvement.
Source: https://www.ohchr.org/en/professionalinterest/pages/crc.aspx